Priority 1: Widen School Participation in Kenya
MASK's strength is through its strong art programmes in Kenya that give children the opportunity to develop and impart creative skills on our beneficiaries. In the future MASK aims to improve and expand these programmes.
In the coming three years we will:
• Continue to work in Kenya and deliver programmes in the 20 schools we currently work in.
• Organise exhibitions
• Improve our educational programmes at schools in Kenya through further training to teachers and facilitators, strategic planning and better communication channels between the UK and Kenya volunteers.
• Hire a paid, fulltime staff member in Kenya to coordinate and teach MASK programmes and complete programme reports.
• Continue the MASK Art Prize Competition which was launched this year on an annual basis
• Market the 2013 MASK Art Prize in Kenya through a variety of communication channels including newspaper, social media, and television
• Work closely with the Kenyan government to embed MASK programmes into government educational policy
• Expand MASK programmes to other areas and schools when we have the capacity to do so
• Monitor the Kenyan elections closely and develop further peace-building workshops and classes in areas affected by any violence
Priority 2: Work in Partnership with the Kenyan Government to improve programmes
MASK works closely with the Kenyan government and aims to improve these relationships and embed MASK programmes into government policy.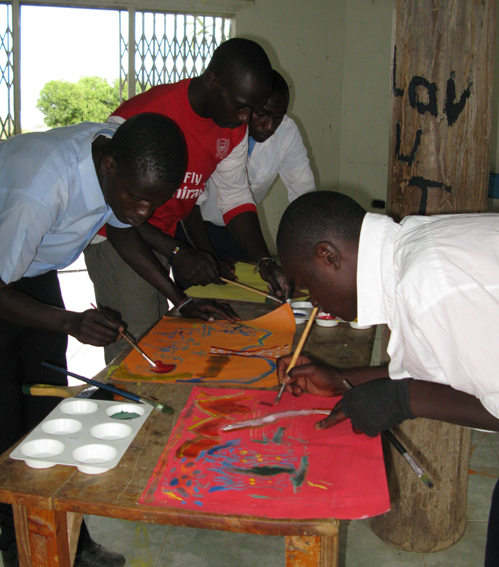 In the coming three years we will:
• Continue our current work on a UNICEF programme with the Kenyan Ministry of Youth Affairs to implement visual arts into the Talent Academies programme. We will continue our work on this programme and aim to launch the partnership this year
• Develop our current relationships with the Kenyan government and create a partnership with the Ministry of Education in Kenya
• Develop our work in support of the Millennium Development Goals and build evidence around this
• Develop an international organisational structure which supports our work in Kenya and the UK
Priority 3: Secure Sustainable Funding
In order for MASK to continue to exist and develop we need to secure funding.
In the coming three years we will:
• Continue securing funding through our volunteer fundraising efforts such as the Annual Great Walk of Art which is to be held be the second time in 2013 and art auctions
• Begin to secure funding through trusts and foundations in the UK. This will be carried out by a volunteer fundraiser and in the future, and within three years we aim to reach out to the USA for funding as well
• Look into developing corporate partnerships
• Secure funding from government agencies and other local agencies in Kenya
Priority 4: Employ full-time staff in Kenya and the UK
Currently MASK is entirely volunteer-led. By having paid staff, MASK will be able to increase its impact and be more efficient.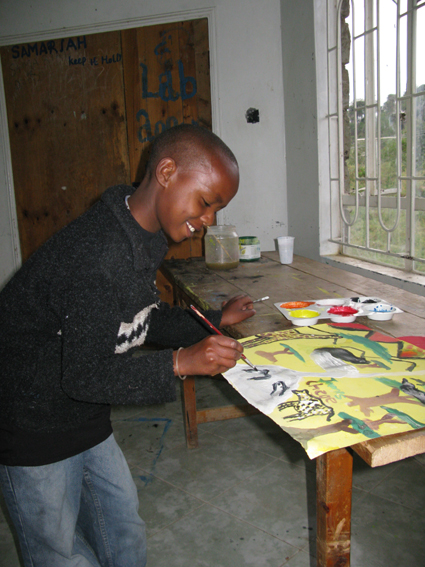 In the coming three years we will:
• Fund staff in the UK and Kenya to better carry out MASK's mission, vision and programmes and make MASK more sustainable.
• In London MASK would like to employ a Director and Development Officer to better secure funding, complete reports and develop programmes as well as work on advocacy efforts in the UK.
• In Kenya, MASK would like to employ a full-time teaching coordinator to run MASK programmes more effectively and accurately.
• In order to complete this priority MASK will secure funding through trusts and grants as outlined in priority 3.
Priority 5: Advocacy Work
Creative Education is important and MASK aims to improve its advocacy work on this subject.
In the coming three years we will:
• Improve our communications: we have recently redone our website and will work to improve all other communication channels and increase our engagement with the Kenyan media
• Become further involved in policy planning for creative and arts education and peace-building in developing countries. We will carry this out by working closely with MASK connections at UNESCO, the Kenya Embassy and UNICEF
• Develop a summary of evidence from research completed in 2011 in Kenya by a MASK volunteer on MASK which can be used for advocacy purposes
• Become a recognised thought leader on the subject of creative education in developing countries by accurately recording our programmes and monitoring and evaluating students' progress and communicating these benefits to relevant opinion formers and policy makers
• Developing a proactive programme of influence by participating in key sector groups, conferences, workshops and consultations on the arts, creativity, peace-building, and other areas having to do with MASK's aims and vision.
• Develop partnerships with similar organisations
• Work on MASK's peace building programmes and influencing policy for these